News
Maykers Launches Mirakl-Powered Marketplace in France To Transform Purchasing Process for Farmers
- April 25, 2023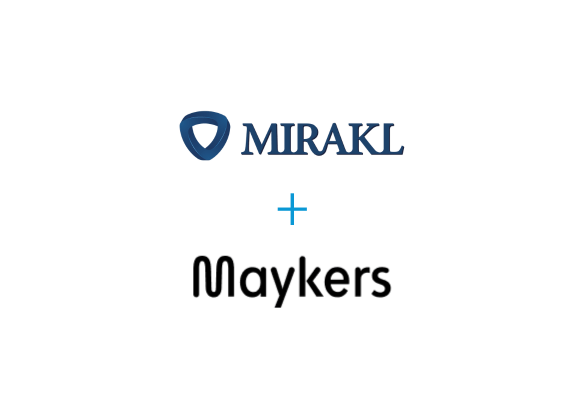 Maykers.fr aims to become the leading online one-stop shop for farmers.
Paris (26 April) - Following an earlier successful launch in Denmark, Maykers today announced the launch of its marketplace in France, powered by Mirakl, the leading SaaS solution to power scalable, profitable eCommerce growth.
Maykers, an agritech startup developed by the Kramp Group, Europe's largest specialist in spare parts and accessories for the agricultural industry, collaborates with the biggest brands in the agricultural sector to allow farmers to find all the equipment necessary for their farms online, while benefiting from the advice and service of their local partners. More than 200,000 product offers are already available on the platform in France.
In the past, a farmer has been required to consult several suppliers to find the right products, with no guarantee of prompt delivery. In addition to considerably increasing the number of products available on its platform, the Mirakl-powered Marketplace facilitates smart connections between farmers and their partners by offering thousands of products via a centralized one-stop shop with fast - in many cases 24 hour - delivery. In providing farmers with access to such a simple purchasing process, they are free to focus on their farming strategy. Maykers, built on Kramp's 70 years' of experience in the agricultural sector, is transforming the European agriculture sector through this visionary eCommerce platform.  
Maykers, a global revolution in the agricultural ecosystem
Maykers' vision is to become the leading reference one-stop shop for farmers, where they can find a comprehensive offer from various suppliers while benefiting from the advice and services of their local dealers. With a focus on technology expertise, Maykers is creating a new digital farming community, where farmers have direct access to local and international business partners with full transparency and confidence to run their farm efficiently.
"As part of our efforts to continuously improve our product, we have implemented a marketplace that also includes dealers because we know they play such an important role in the ecosystem. This unique "virtual seller" feature allows our partners to include their local dealer network. In the customer journey, a buyer can therefore select one of their local dealers on Maykers.com." Jerome Hermans, General Manager, Maykers
Maykers.fr, an innovate marketplace to meet the needs of today's farmer
With the development of eCommerce in the agriculture sector, farmers can more easily find, compare and buy the products that are most important to them. Through Maykers.fr, French farmers can now get in touch with both their local dealer as well as with an international supplier. The marketplace's innovative and powerful search tool also allows users to quickly find the right product among 5 categories (tractor and vehicle parts, agricultural parts, forestry & garden, livestock, and workshop), which will be delivered to the farmer's home, farm, or to the dealer of their choice quickly, and in most cases within 24 hours.
"The Maykers concept responds directly to a very concrete need we are seeing among the farmer community. Today, you often have to consult several suppliers to find the products you need for your farm. On Maykers.fr, farmers can now find everything in the same place very easily and access very quick delivery."  Sandra Teissier, Country Manager France, Maykers.
In the coming months, Maykers has ambitions to: expand its catalog of mechanical and agricultural parts; add new means of payment such as bank transfer in France; and extend to new geographies.
"We see the emergence of platform models across all B2B sectors and value chains. Marketplace platforms seamlessly facilitate exchanges between professional buyers and a vast ecosystem of suppliers. The world of agriculture is no exception, and is even positioned at the forefront of such digital innovation. The Maykers.fr marketplace is the perfect illustration of this platform revolution. Mirakl's technology and expertise enable B2B leaders such as Maykers to launch and operate their own marketplace, in line with the requirements of professional buyers." Marc Teulières, General Manager B2B, Mirakl
"Maykers is a unique platform that brings together the farming community in a digital ecosystem that benefits all market players - manufacturers, distributors, resellers and farmers." Jérôme Hermans, Managing Director , Maykers
A growing product offer and seller base on Maykers.fr
Over 500 brands have already joined the Maykers marketplace. New dealers or manufacturers that are selected by the Maykers team because they meet strict quality standards can quickly join and start selling on the platform. By joining the marketplace as a supplier, sellers will have the opportunity to digitize their sales, address a new existing customer base and benefit from Maykers support and expertise. Partners interested in joining the Maykers marketplace can fill out this form or write to partners@maykers.com.
---
About Maykers
Founded in 2018 by Jérôme and Alexander, Maykers is an agritech startup based in Utrecht in the Netherlands incubated by the Kramp group. Maykers.com is an online platform that meets the needs of the modern farmer. Initiated by the Kramp Group and in partnership with local and global retailers, Maykers has created a marketplace to improve the efficiency of agricultural trade. Present in Denmark and France with more than 500,000 products and 500 brands, as well as a growing number of partners, Maykers.com allows you to organize orders, compare products and access the best advice and services, all in one place.
About Mirakl 
Mirakl is the SaaS solution chosen by leading enterprises worldwide to manage their marketplace and dropship business. Mirakl's intuitive, secure and scalable technology powers profitable digital growth in all angles of commerce – from platform models to personalization and payments. Platforms are the new competitive advantage in eCommerce, and market leaders like ABB, Astore by AccorHotels, Best Buy Canada, Carrefour, Catch, Changi Airport, The Kroger Co., Leroy Merlin, Macy's Inc., Maisons du Monde, and Toyota Material Handling, partner with Mirakl to win in the changing eCommerce landscape. For more information: www.mirakl.com.
Press contacts
Sandra Teissier, Country Manager France & CMO, sandra.teissier@maykers.fr
Hugo Weber, External communications Director, EMEA, hugo.weber@mirakl.com