News
Mathis Home Launches Online Marketplace Powered By Mirakl Amid eCommerce Home Shopping Boom
- December 15, 2022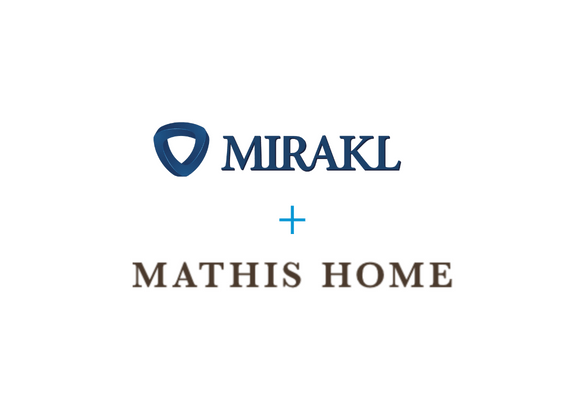 Loading...
BOSTON and OKLAHOMA CITY – December 15, 2022 — Mathis Home, one of America's largest independent furniture retailers, today announced the launch of Mathis Marketplace.  Powered by Mirakl, the industry's first and most advanced enterprise marketplace SaaS platform, Mathis Marketplace is a one-stop shop destination for the best in home furnishings. The marketplace offers a curated selection of products from leading third-party sellers alongside Mathis Home's existing collection and builds on Mathis Home's long-standing reputation as a leader in product quality and selection. 
Furniture and homewares represent 17% of total U.S. eCommerce sales, and are one of the fastest growing categories in eCommerce with a projected compound annual growth rate of 9.8% over the next three years. Consumers now expect the benefits of eCommerce — wider product selections, faster shipping times and lower prices —when shopping for home goods and furniture, and the Mathis Marketplace is poised to deliver the experience today's shoppers want. The new marketplace will allow Mathis Home to rely on the distributed catalogs and logistics of hundreds of third-party sellers, rapidly fulfilling customer orders and ensuring availability of customer favorites and trending products alike.
"Our ultimate goal in launching this marketplace is to expand the ways in which we serve our customers," said Rit Mathis, chief marketing officer at Mathis Home. "The Mathis Marketplace offers us the chance to seamlessly collaborate with third-party sellers, and identify those who offer the best products for our loyal customer base. Over time, we expect to offer selections in store from the most successful third-party vendors as well, ensuring that all Mathis Home shoppers have access to the most sought after home goods."
"Home goods have played a pivotal role in the tremendous growth of eCommerce over the past few years, and Mathis Home has now cemented its position as one of the home furnishing industry's digital leaders," said Adrien Nussenbaum, co-founder and co-CEO of Mirakl. "Mathis Home recognized the urgency and opportunity in delivering an expanded assortment of home goods to customers at scale, providing a seamless experience across their online marketplace and brick-and-mortar locations. This is a critical moment for the furniture industry, and we expect other retailers to quickly take notice."
The launch of Mathis Marketplace, with implementation supported by Merkle, allows the company to significantly expand the high-quality products it offers its customers, partnering with leading brands including Surya to grow beyond furniture and mattresses into new categories such as baby, kitchen and home organization. Supported by Mirakl's seamless seller onboarding experience, Mathis Home expects to add dozens of curated third-party vendors and hundreds of thousands of new products by the end of 2023, all of which are included in the Mathis Rewards Program. Sellers interested in selling on the Mathis Marketplace can inquire via the seller website here. 
The world's top enterprises partner with Mirakl to build their own online marketplaces, quickly onboard third-party sellers and scale globally on the Mirakl Marketplace Platform. The latest marketplace insight and viewpoints can be found on the Mirakl blog. For more business developments and updates, follow Mirakl on LinkedIn, and Twitter. To learn why the world's most trusted brands choose Mirakl visit www.mirakl.com. 
About Mathis Home
In 1960, the Mathis brothers, Don and Bud, revolutionized the furniture business with everyday low prices, which meant customers didn't have to wait for a "sale." As they said at the time, "we took a little less, so our neighbors could have a little more." The concept was a spectacular success, helping Mathis Home become one of the largest independent furniture retailers in America. Today there are 34 Mathis-family brand locations in the U.S., including Mathis Home, Design Studio, Mathis Outlet, Mathis Sleep, LZB and Ashley stores, each offering the largest selection of home furnishings in their region. Mathis Home offers more than 35,000 items, including living room furniture, bedroom furniture, dining sets, dining room furniture, mattresses, and much more for the home. Mathis Home's core principles have always been to offer the biggest selection, prices no other dealer can match, backed by the strongest guarantees and best customer service in the industry, because a satisfied customer is and always has been our most important product.  For more information, please visit www.mathishome.com.
About Mirakl
Mirakl offers the industry's first and most advanced enterprise marketplace SaaS platform. With Mirakl, organizations across B2B and B2C industries can launch marketplaces faster, grow bigger, and operate with confidence as they exceed rising customer expectations. Platforms are the new competitive advantage in eCommerce, and the world's most trusted brands choose Mirakl for its comprehensive solution of technology, expertise, and ecosystem to unlock the power of the platform business model for them. 
As a result, companies like ABB, Astore by AccorHotels, Best Buy Canada, Carrefour, Catch Group, Changi Airport, Darty, The Kroger Co., Leroy Merlin, Maisons du Monde, Metro, and Toyota Material Handling gain the speed, scale and agility to win in the changing eCommerce landscape. For more information: www.mirakl.com.
Media Contacts:
Maya Pattison
Vice President, Corporate Marketing
maya.pattison@mirakl.com
+1-844-264-7255
Tom Hannigan
Bateman Agency for Mirakl
+1-857-526-6636