News
Maisons du Monde, the European leader in desirable and sustainable homes, is rolling out its marketplace in Italy with more than 150 partner brands
- November 1, 2022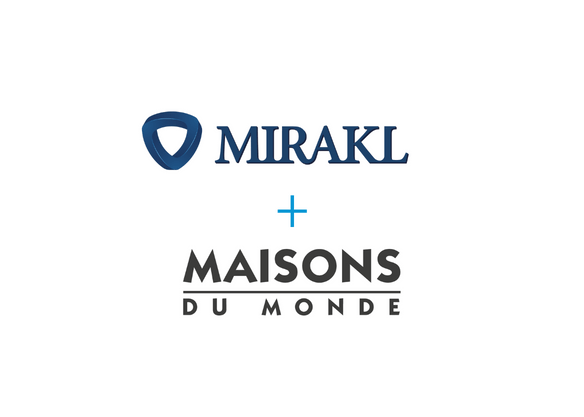 Loading...
For more than 25 years, Maisons du Monde has continued to innovate within the home and decor sector, and offer its customers increasingly inspiring worlds from all over the globe. In 2022, the brand is continuing to grow by turning its website into a select marketplace, powered by Mirakl, the industry's first and most advanced enterprise marketplace SaaS platform, offering more choices for its customers.
The Italian Maisons du Monde e-commerce website (https://www. maisonsdumonde.com/IT/it) is therefore opening up to 150 new brands. The partner brands featured on the marketplace are carefully selected by a team of Maisons du Monde experts and are either local, committed or Made in Italy. They all meet the style, quality and responsibility criteria that Maisons du Monde holds dear. This means new product categories are being added to our existing range, such as bedroom linen, bathroom linen, and beds, bedside tables and headboards. Existing categories, such as decor, our Outdoor Collection and tableware, which already have so much to offer, are also being expanded. For example, Maisons du Monde customers will now be able to find the brands Dalfilo (bedroom linen made in Italy), Biancoperla (household linen made in Tuscany), Emma Materasso (the must-have bedding brand) and Mario Luca Giusti (an Italian brand of acrylic tableware designed to look like crystal) alongside Maisons du Monde's multi-style products. A project at the heart of the Maisons du Monde digital strategy: an omnichannel approach and closeness, enabling everyone to make their homes warm, desirable and sustainable.
With just one click, customers will have immediate access to 25,000 items on the new Italian marketplace! This digital acceleration is part of the Group's decidedly omnichannel vision. Within the next few months, Maisons du Monde plans to roll out the marketplace simultaneously across its Italian shops, thus showing the distinctness and uniqueness of this model within a competitive world of "pure player" marketplaces.
"I am very happy and particularly proud of the launch of our marketplace, the first of its kind in Italy to focus exclusively on the Home and Living sector. This is a brand-new experience that we are delighted to be able to bring to our Italian customers. It meets their wishes for a high-quality, responsible, local and original offering that they can access easily and confidently. This is an important and fundamental step in our desire to make ourselves Europe's most desirable and sustainable Home and Lifestyle brand." said Nicola De Cecco, Italy Network Manager.
Developed in partnership with Mirakl, the industry's first and most advanced enterprise marketplace SaaS platform, the Maisons du Monde marketplace offers a seamless, fluid and relevant customer experience, thanks to the perfect integration of the new items into the current maisonsdumonde.com/IT interface and into the purchasing journey.
"Following the success of its marketplace in France, Maisons du Monde is opening the Italian version in a seamless way thanks to the support of our technology. This model also allows Maisons du Monde to strengthen its collaboration with local sellers and to showcase their expertise. This decision resonates with the changing expectations of Italian consumers to be able to consume artisanal and responsible products," says Sophie Marchessou, Executive Vice President Customer Success B2C
Loading...
About Maisons du Monde:
Maisons du Monde is the European leader in inspiring and affordable homes. As a brand characterised by openness and dialogue, it unites its 7.5 million customers around desirable and sustainable lifestyles. Atmospheres for the home across multiple styles can be found in its constantly renewed range of furniture and decor. With optimism, creativity, commitment and proximity as its core values, the brand is based on a high-performance, omni-channel model. With its digitalization, digital sales, customer service, nothing can stand in the way of this love brand and its company purpose: "To inspire people to be open to the world, so that together we can create unique, welcoming and sustainable places to live." In 2022, Maisons du Monde launched the brand's Good is Beautiful movement, to cement sustainable development within its strategy. This movement rests on five pillars. Allowing beauty and goodness to go hand in hand.
About Mirakl:
Mirakl offers the industry's first and most advanced enterprise marketplace SaaS platform. With Mirakl, organizations across B2B and B2C industries can launch marketplaces faster, grow bigger, and operate with confidence as they exceed rising customer expectations. Platforms are the new competitive advantage in eCommerce, and the world's most trusted brands choose Mirakl for its comprehensive solution of technology, expertise, and the Mirakl Connect ecosystem to unlock the power of the platform business model for them.As a result, companies like ABB, Astore by AccorHotels, Best Buy Canada, Carrefour, Catch, Changi Airport, Darty, The Kroger Co., Leroy Merlin, Maisons du Monde, Metro, and Toyota Material Handling gain the speed, scale, and agility to win in the changing eCommerce landscape. For more information: www.mirakl.com
Press contacts:
Maisons du Monde: presse@maisonsdumonde.com
Mirakl: hugo.weber@mirakl.com, deanna.brasolin@omnicomprgroup.com