News
First-Ever Guide to Online Marketplace Success Revealed in New Book by Mirakl Founders
- March 20, 2023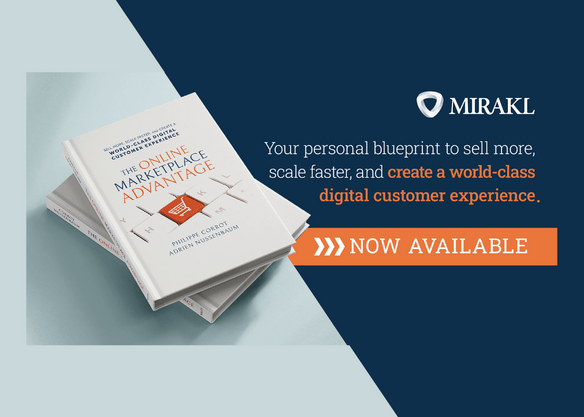 How-to guide for eCommerce leaders spotlights best practices for launching and growing online marketplaces, featuring 30+ case studies from the world's leading brands.
BOSTON and PARIS – March 21, 2023 – Mirakl, the leading SaaS solution to power scalable, profitable eCommerce growth, today announced the release of a new book authored by co-founders and co-CEOs Philippe Corrot and Adrien Nussenbaum. The Online Marketplace Advantage: Sell More, Scale Faster, and Create World-Class Digital Customer Experience (Wiley; March 21, 2023), available today from Amazon and other leading booksellers, offers a step-by-step guide on how to launch, operate and scale online marketplaces in today's frenetic eCommerce landscape. The book is illustrated by the challenges and opportunities faced by 30+ leading brands as they embarked on their ultimately successful digital transformations. 
Online marketplaces bring together products and services from multiple sellers on a single eCommerce site. They now represent two-thirds of global eCommerce and have grown at double the rate of overall eCommerce over the past three years. Drawing on Corrot's and Nussenbaum's decades of marketplace leadership, the new book explores the factors driving that growth across industries, from fast-shifting macroeconomic conditions to rapid changes in buyer expectations. The first-of-its-kind book spotlights marketplace successes and learnings from dozens of leading brands, including Airbus Helicopters, The Kroger Co., Macy's Inc., Madewell, and NBCUniversal.
In The Online Marketplace Advantage, the duo reveals how they built the world's first successful omnichannel marketplace to meet buyers' growing demands for "anything, anytime, anywhere," and examines the critical factors that contribute to marketplace success. The book explores never-before-shared insights across every stage of marketplace design, launch, and growth, building on their expertise as co-founders of the world's leading enterprise marketplace SaaS solution and their partnership with more than 350 industry leaders in 40+ countries whose marketplaces collectively generated $6 billion in GMV in 2022 alone. 
"Philippe and I have dedicated the last two decades of our lives to the platform revolution, because we've believed since the beginning that the marketplace model is the only way for businesses to not only compete, but lead, in the digital-first economy," said Adrien Nussenbaum, co-founder and co-CEO, Mirakl. "Today we are pulling back the curtain on our collective learnings from working alongside more than 350 leaders across every industry, sharing the make-or-break choices that separate the marketplace losers from the winners so that every enterprise can succeed in today's eCommerce landscape." 
"We're living through a once-in-a-lifetime transformation as the platform revolution takes hold, determining the future of commerce," said Philippe Corrot, co-founder and co-CEO of Mirakl. "The success of today's platform businesses are proof that conventional strategies are no longer enough to secure your place as a future leader in your industry. Every enterprise must rethink their business model if they want to succeed in this new era of eCommerce. The Online Marketplace Advantage is essential reading for any business leader seeking the roadmap to success in a world transformed by the platform model."
The Online Marketplace Advantage is an indispensable resource for any aspiring and current eCommerce business owner, manager, or leader, written by the global leader in online marketplace creation and design. To purchase the book, please visit https://info.mirakl.com/en/the-online-marketplace-advantage. 
About Mirakl
Mirakl is the SaaS solution chosen by leading enterprises worldwide to manage their marketplace and dropship business. Mirakl's intuitive, secure and scalable technology powers profitable digital growth in all angles of commerce – from platform models to personalization and payments. Platforms are the new competitive advantage in eCommerce, and market leaders like ABB, Astore by AccorHotels, Best Buy Canada, Carrefour, Catch, Changi Airport, Darty, The Kroger Co., Leroy Merlin, Macy's Inc., Maisons du Monde, and Toyota Material Handling, partner with Mirakl to win in the changing eCommerce landscape. For more information: www.mirakl.com.
Media Contacts:
Tom Hannigan
Bateman Agency for Mirakl
+1-857-526-6636
Sara Matasci
Mirakl
+1-857-756-2037