News
Decathlon UK Opens its Website to Selected New Partners in Health and Sport
- June 29, 2021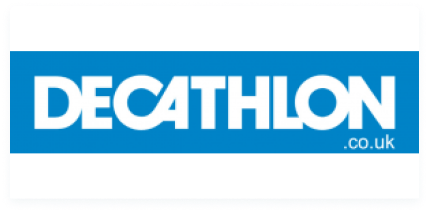 Loading...
This shift to a marketplace model, powered by the Mirakl Marketplace Platform, grants customers access to an even wider range of high quality sporting goods
Decathlon UK are delighted to invite new Partners to join its marketplace, bringing together a specially curated selection of brands to help make sport more accessible to the many.
Thousands of new products will sit alongside Decathlon's in-house products on decathlon.co.uk, enhancing Decathlon's existing offer with technical and innovative products that ensure they offer the best range of sports goods.
This latest initiative from Decathlon will help the company to stay ahead of the curve as its business model continues to successfully adapt to the ever changing retail landscape. Research shows that marketplaces are growing twice as fast as overall eCommerce.
Decathlon's new marketplace will enable the company to capitalise on this growth and meet rapidly evolving consumer demand. Its online marketplace, powered by the Mirakl Marketplace Platform, will provide an environment in which businesses that sell to consumers and/or other businesses can sell physical items or services.
By adding thousands of new products Decathlon will be able to cater for a wider range of UK customers, improving stock availability and opening up new categories. The marketplace is part of a wider international strategy, with Mirakl-powered Decathlon marketplaces already publicly launched in Belgium, with more country launches planned in the coming months. In Belgium the marketplace currently accounts for 8.5% of all sales on the Belgium website and marketplace sales at Decathlon are projected to exceed 1 billion Euros across Europe within 5 years.
Decathlon has employed the expertise and best-in-class technology of leading marketplace solutions provider Mirakl, whose platform offers Decathlon a flexible, tailor-made environment that can adapt easily to the specific characteristics of local markets. This allows them to coordinate all online transactions through its e-commerce channel, with it possible to purchase products from Decathlon partners alongside Decathlon own brand products in one transaction. Partners can then choose to ship and handle the orders themselves, with all options clearly displayed during the checkout process.
Luca Cassina, Executive Vice President Customer Success EMEA, Mirakl, says, "Decathlon is a true Platform Pioneer. The team, driven by innovation and their desire to respond to customer demand, recognised very early on the huge value the marketplace model can bring to scale their product offering quickly. Already powering their Belgian marketplace, we are delighted to now bring our expertise and leading technology to Decathlon UK. We look forward to supporting them every step of the way as the marketplace grows."
Decathlon has also decided to work with partners that share its values of quality and accessibility. Additionally they are particularly excited to be working with a number of local UK brands.
Founding partners include Donda Cycling and Pendle Bike Racks. Donda Cycling is a London start up that prides themselves on creating "honest, accessible apparel for the everyday rider" much like Decathlon's own cycling brands. Pendle Bike Racks has a heritage dating back to 1977, with all of its products designed, manufactured, tested at its home in Nelson, Lancashire, England. Another is Corkspace, an "independent family-run yoga brand on a mission to promote sustainability." For every new eco-friendly cork yoga mat made, Corkspace plants 10 new trees in partnership with the Eden Project.
Along with independent UK brands, distributors and resellers, Decathlon will be working directly with some of the biggest names in sport from Adidas to Speedo, ensuring the most technical and desirable products are available for their customers.
Ashley Milns, Decathlon Marketplace Business Developer, added "Our mission is to sustainably make sport accessible to the many and our new marketplace allows us to improve our current range whilst opening up new categories, catering for an even wider range of customers.
"We're very proud of our in-house passion brands, and the innovation and quality they offer. However, we want to be able to offer UK customers the best choice of sports products and we believe our marketplace will achieve this."
"We already have a great lineup of Partners selling on our marketplace but for any business that feels it can bring value to our customer can express an interest by contacting ashley.milns@decathlon.com."
Notes to editors:
About Decathlon.
Decathlon was founded in 1976 in Lille, France, with a mission to make sport accessible for the many.
Decathlon UK opened its first store in Surrey Quays, London, in 1999 and has since developed into a full omnichannel shopping experience, including over 45 purpose-built stores, website and Click & Collect services.
A family-owned company, it creates a unique range of expertly designed products across over 70 sports that offer unbeatable value for money.
Decathlon's teammates are always on hand to share their passion and trusted expertise, giving you all the sports, advice, equipment and services you need at the most affordable prices. So, whether you're a total beginner, or a regular, they've got it covered. Let's Play UK. Find out more at Decathlon.co.uk.
About Mirakl
Mirakl offers the industry's first and most advanced enterprise marketplace SaaS platform. With Mirakl, organizations across B2B and B2C industries can launch marketplaces faster, grow bigger, and operate with confidence as they exceed rising customer expectations. Platforms are the new competitive advantage in eCommerce, and the world's most trusted brands choose Mirakl for its comprehensive solution of technology, expertise, and the Mirakl Connect ecosystem to unlock the power of the platform business model for them. As a result, companies like Astore by AccorHotels, Best Buy Canada, Carrefour, Catch, Changi Airport, Darty, Decathlon, The Kroger Co., Leroy Merlin, Maisons du Monde, Metro, and Toyota Material Handling gain the speed, scale and agility to win in the changing eCommerce landscape.
For more information: www.mirakl.com.
For more information, please contact:
Matthew Kraus
PR Lead
Ashley Milns
Decathlon UK – Marketplace Business Development
Hugo Weber
External Communications & Public Affairs Director, Mirakl
Decathlon UK Ltd. (03140144)
Canada Water Retail Park, London, SE16 2XU