Blog
Mirakl Reshapes the AdTech Market with New Mirakl Ads Platform
Clément Cosso - November 15, 2022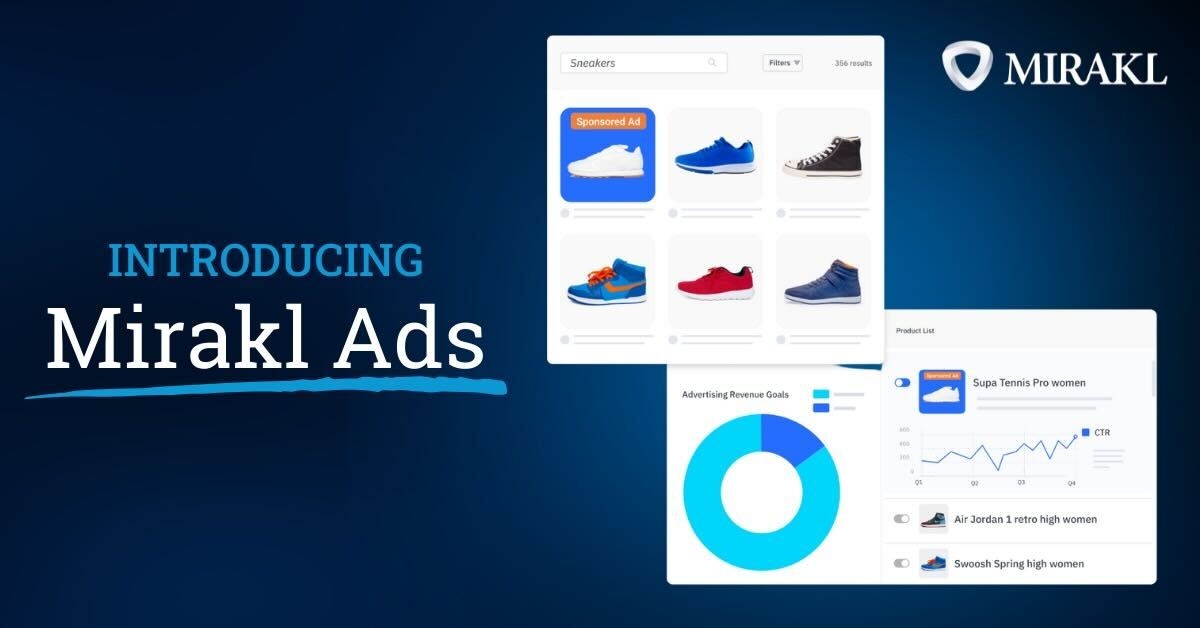 In a fast-changing eCommerce landscape, retail media stands out as one of the most dynamic trends to have emerged over the past five years. Globally, digital retail media ad spending is expected to reach $160 billion globally by 2027. This growth is no accident. Retail media offers a much-needed solution to eCommerce businesses as they seek to set themselves up for long-term success in the midst of serious headwinds. 
What's behind the growth of the retail media opportunity?
Let's start with the magic word: profitability. In a turbulent macroeconomic environment, retailers are increasingly focused on not only increasing revenue but also boosting their profits. Retail media offers both: selling ad space on retail websites is actually more profitable than selling goods, because monetizing advertising "inventory" (website space) is pure margin. 
On top of that, stricter data privacy rules are pushing advertisers to explore new alternatives. Conventional digital advertising strategies are no longer delivering what advertisers need. Because of more stringent third-party customer data laws and cookie deprecation, advertisers are losing the ability to market directly to customers. They need a new way to reach their target audience – and the millions of shoppers already browsing on retailers' eCommerce sites offer the perfect path. 
But while the need is clear and the opportunity is massive, today, retail media is still largely the purview of digital giants. Amazon's ad business has outpaced Google's and Facebook's growth every quarter for the past three years, and last year, it officially became a bigger advertising platform than Youtube, selling $31.1 billion in ads in 2021.Walmart, while far behind Amazon in terms of ad revenue, is fast catching up, selling $2.1 billion in ads in 2021 and surpassing the $2 billion milestone twice as fast as Twitter did. 
So with all of the benefits, why haven't we reached mass-market adoption of retail media networks? There hasn't been a solution that offers the control, visibility, and optimized buying experience to meet the needs of today's eCommerce landscape – until today.
Bridging the retail media gap with Mirakl Ads: a game-changer for advertisers and publishers
We're thrilled to introduce Mirakl Ads, an innovative new retail media solution that empowers businesses to monetize their eCommerce web traffic across both marketplace and first party offerings while delivering more value to advertisers, marketplace sellers and publishers.
Mirakl Ads is a suite of tools that no other platform can provide. Combining Mirakl's expertise in eCommerce best practices, product data management and conversion optimization, we've created a retail media solution purpose-built to generate more sales and greater profits from digital advertising spend. 
A digital ads-in-a-box solution for publishers & marketplace operators
Hundreds of retailers globally are launching marketplaces to expand assortment and attract new customers. Now, they're looking to monetize this traffic –but the current solutions on the market simply don't offer the functionality for a scalable, profitable retail media strategy.
Mirakl Ads is changing that. Compatible with marketplace, drop ship and first-party eCommerce, it works seamlessly across a full digital product assortment. And by offering pre-built integrations, automation and professional services, publishers and marketplace operators can focus on optimizing digital advertising program performance, while Mirakl takes care of the rest. 
A next-gen retail media platform for advertisers & marketplace sellers
Offering access to many of the largest marketplaces in the world, Mirakl Ads brings together all the necessary elements to maximize return on advertising spend  in a single unified package, helping advertisers and marketplace sellers manage digital ad spend, track performance and maximize ROI. 
Advertisers want smart new ways to invest their advertising budget that deliver tangible return on investment – not just "brand exposure." Solutions in the market today include plenty of the metrics that media buyers love to see, like visibility, exposure, and completion rate for video ads, but they can't demonstrate ROI, because they don't take into account whether the product actually gets sold. 
With Mirakl Ads, advertisers will have real-time visibility into how their ads are impacting conversion, with actionable insights that span a broad array of advertising-specific and marketplace data to inform how they should invest their advertising budgets in the future. Mirakl Ads helps them focus on the activities that drive sales rather than pure exposure. 
A better shopping experience for the end customer
91% of consumers are more likely to shop with brands that recognize, remember, and provide relevant offers and recommendations – but current retail media solutions simply aren't up to par. 
Imagine a customer searching for the latest smart watch and seeing sponsored ads for cookware mixed into the product listings. Without contextual targeting supported by high-quality recommendation algorithms, you won't get your ads in front of the customers that they are relevant to – and your customers won't have a great shopping experience. Mirakl Ads solves this with Mirakl's proprietary AI, ensuring that shoppers always see the most relevant sponsored products for them at the right time.
Capture more value with Mirakl Ads, the latest addition to Mirakl's growth solutions 
Mirakl Ads is the newest addition to Mirakl's comprehensive suite of growth solutions, joining Mirakl Target2Sell and Payout to empower every business to improve customer experience, accelerate seller growth and performance, and maximize financial results.
Initial availability of Mirakl Ads will begin in April 2023 via a global early access program. For more information, visit https://www.mirakl.com/retail-media.
Clément Cosso,
Retail Media Group Product Manager