Meet the Enterprise Marketplaces Powering Growth in Wholesale Food & Beverage
Back to blog
Evolving consumer demands are driving a transformation in the world of wholesale food and beverage. Where end consumers once simply demanded cheap food that tastes good, they now look for more: whether that's accessible and affordable gourmet, sophisticated experiences with global flavor, or farm-to-table and sustainable options. These new priorities have not only shifted buyers' needs but also accelerated the growth of new business models – and with them, a brand-new cohort of wholesale customers.
The disappearance of the traditional wholesale food and beverage customer
Grocery stores and restaurants are both experiencing this evolution in consumer expectations. In 2020, fresh produce sales saw a 14.3% year-over-year (YoY) increase, while frozen produce sales experienced a whopping 33.8% YoY growth. At the same time, demand for new dining experiences with nontraditional formats is also on the rise: Think personal chefs, private dinners (like those facilitated by EatWith), food trucks, and "grocerants" such as T&T Supermarket's Seafood Bar.
And look no further than mini grocery stores like Rewe to Go in Germany and "next gen" vending and kiosks to witness the growth of alternatives to the conventional grocery experience. These innovative formats, looking to compete with quick-serve restaurants, have been gaining market share as the result of demand for 24/7, touchless access to artisanal, gourmet food options. ![Stelline Pizzeria (WP)]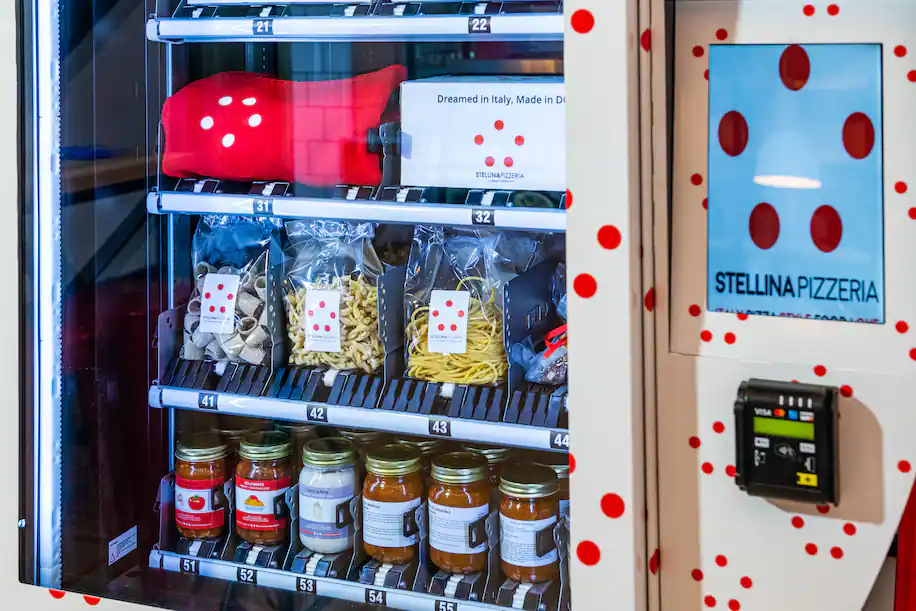 _ An example of a gourmet vending machine courtesy of the Washington Post_
These shifts in demand and buying behaviors are blurring the lines between customer types for food and beverage wholesalers. As independent restaurants, small chains, and new business models grow, wholesalers face a new set of challenges: understanding who those customers are and predicting what they want. To maintain their market share, wholesalers are exploring new ways to align their channel strategy; going after these smaller B2B segments, while still supporting the needs of larger chain customers.
Serving more customers – better, faster, and more cost-effectively
A select group of industry leaders is leading the charge to address this new, more diverse set of customer needs – and they're doing it without taking on the inherent risks and costs associated with bringing on more inventory. Rather than investing in more trucks, distribution centers, and in-stock inventory, these forerunners are launching enterprise marketplaces to expand their assortment across more categories, tapping into broad networks of third-party sellers.
United Natural Foods, Inc. (UNFI) onboards more sellers in new categories to meet customer needs
UNFI is the largest publicly traded wholesale distributor of health & specialty foods in the United States & Canada. It's also the main supplier for Amazon-owned Whole Foods, which accounted for 18% of UNFI's sales in 2020. UNFI was experiencing a high volume of inquiries from smaller suppliers that were ideally aligned to the new needs and expectations of their customers – but their distribution centers weren't designed to accommodate this influx of SMBs. They saw their enterprise marketplace, Community Marketplace, as a tool that would open up a learning channel, helping them trial new brands and monitor customer purchasing trends to identify new offers to add to their core distribution.!
[UNFI Community Marketplace]
"The past year has underscored the importance of expanding product offerings online and creating new ways to meet evolving consumer trends and demands," added Thomas Kraus, Vice President of Digital, UNFI. "With the scale, agility, and operational efficiencies that businesses need to expand product offerings and meet consumer needs, Mirakl will be indispensable as UNFI looks to provide more hyperlocal products online faster to the retailers using our platform."
METRO France is cultivating stronger customer relationships
METRO France is the leading supplier of independent caterers in France, serving over 400,000 professionals in the Hotel, Restaurant, and Catering (Ho-Re-Ca) industries every day. Facing the acceleration of eCommerce – and rising customer expectations – METRO France realized that their existing first-party business model, which centered around its own warehouses, was no longer scalable enough to meet the demands of the market, causing them to miss out on sales opportunities. They needed a new solution that would expand their assortment, while still being seamlessly integrated into their omnichannel strategy.
With their Mirakl-powered Marketplace, METRO France is getting the best of both: an enriched assortment for their customers, and a seamless omnichannel purchasing experience. By bringing their marketplace platform into the brick-and-mortar locations via smartphones, tablets, and other devices, they were able to deliver an endless aisle experience and increase the value of each sale.
"The aim of our marketplace is to empower our employees with this endless assortment. Our employees are equipped with smartphones and tablets in order to assist our customers to take orders in the field directly from METRO's marketplace," says Sylvain Bozoc, Head of eCommerce and Marketplace, METRO France.
These food and beverage leaders are addressing the changing wholesale landscape head-on, using industry disruption to their advantage. By launching enterprise marketplaces, powered by Mirakl, they're delivering experiences and products that address a more diverse customer group, creating a more agile value chain strategy, and distilling key learnings to a launchpad for growth. Kickstart your own enterprise marketplace journey today by contacting the Mirakl team.
Get weekly insights and strategy for your online marketplace