Blog
Madewell Creates a Curated Retail Marketplace That Customers Love
Sara Matasci - August 3, 2023
Launching an eCommerce marketplace allows brands to quickly expand their product assortment, reach new customers, and drive revenue growth. But can this type of overnight expansion be achieved without losing a brand's identity or soul? Madewell is proof that retailers can reap the rewards of a retail marketplace while protecting their brand identity and curated experience. Madewell features third-party marketplace sellers under its "Labels We Love" directory, introducing new products and categories to their customers while maintaining a unified brand aesthetic. This approach may be why marketplaces are gaining momentum in particular among fashion retailers with high standards and specific identities.
Beth Herget, vice president of merchandising at Madewell, spoke with Mirakl's Chief Customer Officer Sophie Marchessou at the 2023 Platform Pioneer Summit. Read on to learn about how Madewell prioritized brand identity and customer experience in their enterprise marketplace strategy.
How Madewell Drives Customer Loyalty with an eCommerce Marketplace
1. Provide a seamless shopping experience
One of Madewell's top eCommerce priorities is maintaining a consistent experience, rather than dividing the site according to first-party and third-party products. "The goal is to make it feel seamless for the customer, have it be a natural part of the journey, and have it be part of the world of Madewell," said Herget. This coherent experience helps Madewell maintain brand loyalty even as they're introducing new products and categories to their catalog from partner sellers.
2. Identify opportunities for expansion
Launching a retail marketplace gave Madewell the opportunity to explore new product categories, offering customers more of what they needed on a single site. But for Herget, this approach to expansion also led to gains for the brand's core products and categories.
"We quickly realized that the way we're really winning on our marketplace is focusing on our core competencies, and on the categories that the customer is naturally coming to us to shop," said Herget. "We use it most effectively in the categories that we sell well ourselves, and we've seen zero cannibalization in our business."
3. Prioritize customer values
Building a retail marketplace isn't about expanding by any means necessary. Madewell used their marketplace strategy to invest in initiatives important to their customers.
"We've used the marketplace in interesting ways around some of our important brand initiatives around community building," said Herget. "We use it to power one of our initiatives called Hometown Heroes, which is really in support of small businesses and makers that couldn't [reach this audience] otherwise."
4. Maintain a clear identity
How does Madewell protect their brand while introducing new sellers and products? The company maintains strict guidelines in terms of photography and copy, ensuring that customers have a unified experience regardless of whether they're viewing an owned Madewell product or an item from the "Labels We Love" line.
"We have a very strong creative point of view, and I think that's a lot of the reason why we're winning," said Herget. "The Madewell brand is a really special reason why we stand out in the marketplace."
Creating the world of Madewell on a retail marketplace
Five years on from launching their eCommerce marketplace strategy, Madewell stands out as a shining example on how to succeed while staying true to your brand values.
"The ultimate advantage for marketplace is meeting the customer where they are," said Herget. "It's creating the world of Madewell and the things that these customers are looking for."
Learn how other retailers are fueling eCommerce growth with a marketplace.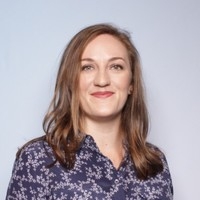 Sara Matasci,
Director, Corporate Marketing at Mirakl