Blog
New Industry Analysis from Mirakl Shows Marketplaces & Dropship Dramatically Outpacing eCommerce
Fareeha Ali - 5 juin 2023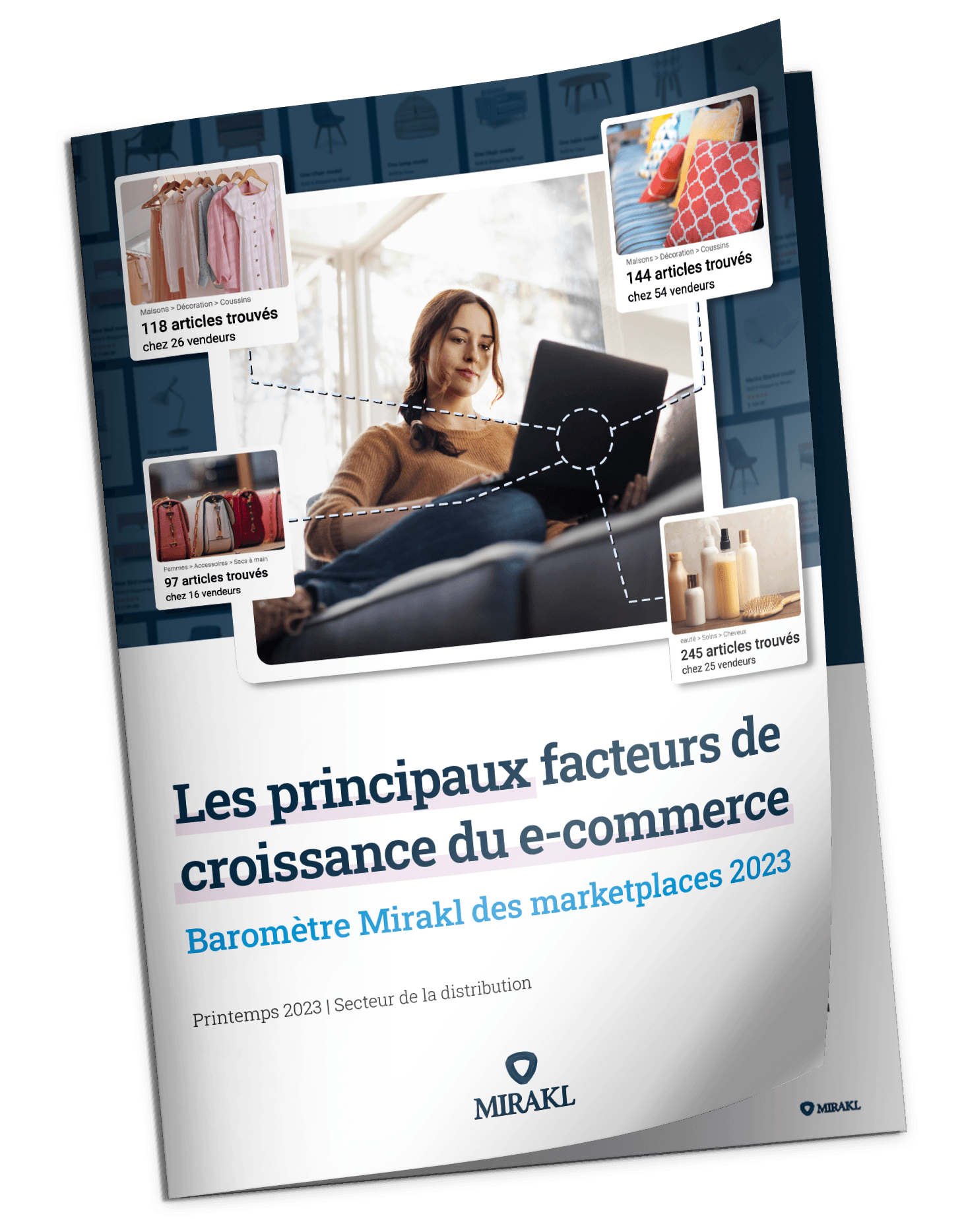 It's been a wild ride for the retail industry. Digital transformation. Supply chain challenges. Inventory chaos. A cost-of-living crisis.
Online retailers have faced these challenges for years, but in 2022, they came to a head, as global eCommerce sales grew by just 6% year-over-year. Following the rapid, Covid-induced growth of 2020 and 2021, this modest increase brought a rude awakening to retailers used to more than a decade of double-digit returns.
Yet one area of the digital economy outperformed the rest. According to the 2023 Enterprise Marketplace Index (EMI) report, enterprise marketplace and dropship businesses grew by 38% year-over-year in 2022, more than six times the rate of eCommerce overall. This dramatic growth widened the gap between platform businesses and traditional online retailers even further than before: marketplaces had grown consistently at twice the overall eCommerce rate in 2020 and 2021.
Let's dive into the findings and see what online retailers can learn from the platform revolution.
The industry's largest analysis of marketplace and dropship businesses
The third edition of the Enterprise Marketplace Index analyzed the 2023 performance of 99 global retail marketplaces and dropship platforms. Altogether, these platforms support more than 50,000 sellers and 120 million SKUs, resulting in almost $4 billion in gross merchandise value (GMV). 
The report offers valuable benchmarks for the progress of online marketplaces and dropship businesses in particular, as well as the overall eCommerce industry as a whole. The EMI uses a year-over-year, "same-marketplace-sales" analysis to track the progress of platforms that were live during the two-year period from 2021 through 2022. 
Value, choice and profitability are driving growth
What's helping marketplaces and dropship businesses to maintain and expand their lead over eCommerce competitors? The EMI finds three factors:
Online shoppers favor the value and choice offered by platform retailers. In a recent Mirakl survey, 89% of global consumers say inflation has made them look for better value. Enterprise marketplace and dropship platforms have met that need by increasing product assortment and ensuring they have something to offer at every price point. Product assortment on established marketplace and dropship platforms increased by 49% year-over-year in 2022.
Third-party inventory strategies drive profitability. Retailers continue to try to overcome the pressures of inflation, and profitability is now the name of the game for those looking to survive the current downturn. The marketplace model offers a clear path to increased profitability, because marketplace commissions offer a significant revenue contribution. According to the EMI, the average commission fee on enterprise marketplaces in 2022 was 14.1%. The average GMV per seller also increased year-over-year, with the average amount of revenue generated by each individual seller exceeding $20,000 in 2022. 
Brands are waking up to the marketplace selling opportunity. Marketplace and dropship models are driving profitability with every new seller, and the EMI has good news for marketplace operators: the number of businesses selling on marketplaces is increasing steadily. In 2022, the number of businesses that began selling on marketplaces increased by 31% year-over-year, and 53% of businesses said they're selling on more marketplaces this year than in the year before. Nearly two-thirds (62%) expect to increase their number of sales channels over the next 12 months. 
Discover the key factors behind eCommerce growth in 2023
Want to learn more about the state of play for enterprise marketplace and dropshipping businesses, and discover how leaders like The Knot, H&M Home and Kingfisher are accelerating their eCommerce growth? Click here to download the 2023 Enterprise Marketplace Index from Mirakl.
Fareeha Ali,
Director of Strategy & Market Intelligence at Mirakl