Mirakl, a SaaS marketplace platform has launched Mirakl Connect, a global marketplace ecosystem. The marketplace is a digital platform connecting marketplace operators with sellers and partners to support the launch and growth of new platform strategies.
An online marketplace brings third-party sellers together into a single eCommerce platform. This allows consumers to shop from multiple sellers through a single portal with a unified checkout. The model is quickly gaining user attention. Forrester data shows that marketplace sales already account for more than 50% of online transactions. Forrester's research suggests the growth trend is on track to reach nearly 70% by 2022.
Tapping into the global marketplace ecosystem boom
Marketplaces have taken an increasing share of online retail sales: 56% of B2C online retail spend came from marketplaces in 2017. This report used the Forrester Analytics Online Marketplace Tracker methodology to examine 11 marketplaces across 16 countries. it aimed to understand their share of the B2C eCommerce market and their growth trends from 2015 to 2018. The Forrester report also looked at marketplace expansion and brick-and-mortar stores' increasing investment in and sales through marketplaces.
According to Gartner by 2023, the majority of online sellers will list their products with marketplaces.
However, achieving success in the global marketplace ecosystem depends upon first having an effective technology as a foundation. In addition, it is important to find and connect with the right partners and sellers. This is where Mirakl Connect comes in. Bringing together, in a single platform, a global marketplace community of:
Mirakl-powered marketplace operators
Marketplace sellers
Partners offering services and technology solutions with experience in the marketplace space
Removing another barrier to entry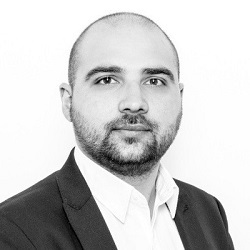 According to Antonio Parisi, Marketplace Director at UBALDI, "Mirakl is leading the marketplace revolution. Essentially it is giving any online business the ability to leverage the same strategy and technology that turned Amazon into the world's biggest online retailer."
Parisi added, "With Mirakl Connect, they're making it even easier for companies to accelerate.  By effectively removing the biggest barrier to entry and growth. Essentially, finding the right partners that meet our marketplace requirements in terms of product categories and geography."
Based in France, ULBADI is a digital network and a real network of specialized physical stores, at the forefront of technology based.
Mirakl Connect accelerates interactions between marketplace players, allowing them to:
Promote their business to increase visibility in the marketplace industry.
Make new connections and engage with potential marketplace business partners all in one place.
Accelerate the launch and growth of their marketplace activity.
Mirakl Connect is free and provides key features that help platform members accelerate and succeed in their marketplace business, including:
A curated marketplace community with access to global players in a single platform.
A company profile that allows members to create and manage a profile to promote their business.
Search capabilities that help members easily and quickly find new prospects with filters like product category or geography.
Built-in chat function, allowing members to conveniently engage and discuss new opportunities with one another.
"Mirakl Connect is bridging the gap between operators, sellers and third-party partners. This enables the kind of partnerships that allow everyone to capitalise on the huge marketplace business opportunity," said Mirakl US CEO and co-founder Adrien Nussenbaum.
Enterprise Times: What this means for business?
According to international analyst groups, businesses must re-imagine their digital commerce strategies by using emerging technologies and business models. According to Gartner, new business models – marketplaces will enable sellers to generate revenue streams and focus on customer outcomes.
Gartner predicts that "By 2023, 15% of medium-to high-GMV digital commerce organizations will have deployed their own marketplaces. Thereby creating a digital ecosystem on their path to digital business." Gartner identifies the emerging technologies and business models that are resulting in success for innovative digital commerce organizations.
For businesses, and retailers in particular, keeping all your options open is the sensible course in this extremely competitive marketplace. Whether you're just getting started or looking to expand your current marketplace, businesses have to explore these platform options. They provide an opportunity to connect business with the right suppliers. Connecting to the right partners, is an essential ingredient required by organizations to achieving growth goals or revenue targets.
---
Originally posted on 10 June, 2019 by Roy Edwards, Enterprise Times